Category: Interviews
Here are two videos of Kristen from January 21st appearance on "Conan".
Showtime's House of Lies, which returns this Sunday for a third season, offers a comedic look at one of our era's great scourges. No, not gluten; management consulting! Don Cheadle and Kristen Bell star as Marty Kahn and Jeannie van der Hooven, a flirtatious pair of down-sizers-for-hire who are too skilled at backstabbing to ever really pair up romantically. To celebrate the show's return, VanityFair.com asked Bell, to play journalist for a day and interview Cheadle.
Kristen Bell: Don, you've played Marty Kahn on Showtime's House of Lies for three years now. What's your favorite thing about working with me?
Don Cheadle: Did they write this for you? Oh, you must have written this yourself. My favorite thing about working with you is that when I look closely in your eyes—you know how you get emotional and your eyes mist up when we're doing dramatic scenes? When that happens, I can see myself reflected in your eyes really, really well.
Kristen will be appearing on 'Chelsea Lately' tonight January 6th, and on 'The Talk' on January 8th. Please check your local listings to find the times in your area.
Kristen Bell is everywhere. Seriously. Go to a movie theater, and you will see Bell—or, rather, hear her—as the ice princess Anna in Disney's animated holiday hit Frozen. Turn on your TV starting Jan. 13, and there Bell will be, playing lovelorn management consultant Jeannie van der Hooven on Showtime's House of Lies. Earlier this year, Bell collaborated with Veronica Mars creator Rob Thomas to fund a $5.7 million Mars movie through Kickstarter, so she's got her online bases covered, too. (The film was shot over the summer and is scheduled to arrive in theaters next year). Bell even had a hand in the most exciting Broadway news to hit the wires in ages: the March 2014 debut of the musical adaptation of Heathers, the 1988 high-school classic starring Winona Ryder. Bell workshopped the Ryder role on stage in New York and Los Angeles.
Bell was able to make some time in her very busy schedule to talk to The Daily Beast about her big year: how she helped create Frozen's Anna, what to expect from Season 3 of House of Lies, why the Veronica Mars movie is going to "make fans happy," and more.
When you were offered Anna in Frozen, you asked them to rewrite the role. How was she originally written?

It was very much a collaboration. It wasn't that I asked them to rewrite her so much as I offered up wild suggestions around every corner. It was a surprisingly collaborative process, actually, because they wanted the movie to be very truthful. And I was put in a position where they were ready to hear my opinions on the subject, and that isn't always why an actor gets hired. So I was lucky.

She was written just plainer. More general. In the first draft of the script she was written more, in my opinion, prissy. She was kind of specific and very girly. And to me, it just wasn't appealing. There were some fun parts to it, as anyone who's a bit anal retentive is also funny to watch. But to me it wasn't what I felt like I wanted to play. She wasn't as likeable as she could have been.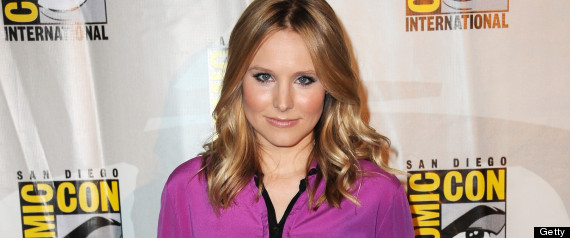 The "Veronica Mars" movie is filled to the brim with stars, from its leading lady Kristen Bell to cameo appearances by Justin Long and Jamie Lee Curtis. But there's one "guest appearance" that made Bell pause.
"I would say, oh God, I don't know," Bell told The Huffington Post in a phone interview when asked about which cameo was her favorite. "You know what? I know who I'd say and I can't say that person because they're not released yet."